SVDL-0101 'Softball Scissor Star!' featuring Natasha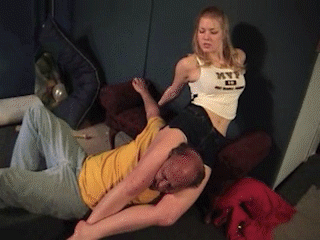 Hover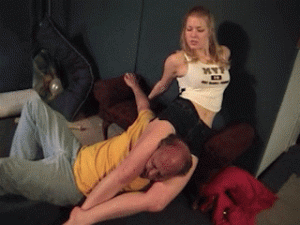 He benched me from the softball team.  So now it's time to bench him between my THIGHS!
Video Length : 30 mins. | Video Size : 480×360 | File Size: 166MB
Video Preview
Video Description
When Natasha finds out her coach benched her from the college softball team, she's fit to be tied – and fit to tie him up in scissors!
Newbie Natasha had never done scissors before but took to it in her first video in literal smashing fashion, absolutely destroying Kandor in an unbelievable and brutal array of non-stop scissors!
Showing up in tiny jean shorts, tight top and ball cap, she's brandishing a small baseball bat and uses it to haul him off the chair to his knees and absolutely encase his skull in her thighs in a savage standing headscissors!
From then on she holds nothing back, dragging his sorry ass to the floor and just pulverizing him in her creamy white rock-hard thighs, occasionally using the bat to beat his ass!
She is brutality personified, stalking him between scissors, delivering bruising kicks to the ribs to set him up for engulfing reverse facescissors, neck-wrenching figure fours and cracking throat scissors!
In the end he agrees to put her back on the starting team and make her a captain, after she nearly cracks his skull open in her thighs, but she refuses – and says she's gonna try out for football instead!
More Videos You Might Like!