SVDL-0110 'Picture My Scissors!' featuring Michelle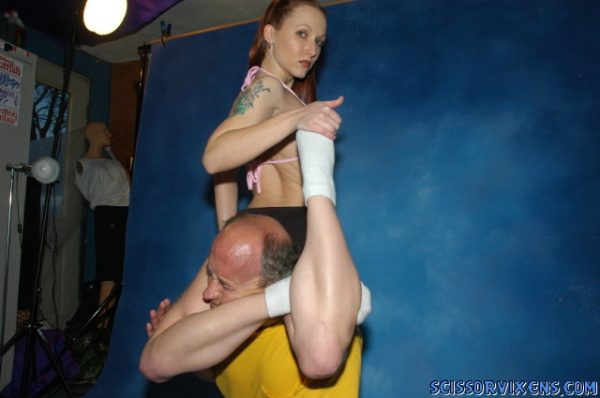 Hover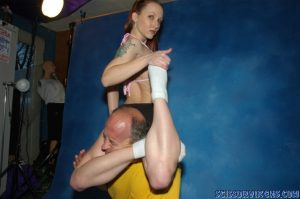 Video Preview
This photographer told me to take off my socks or no shoot.  Ok, how about I take off his head instead!
Video Length : 30 mins. | Video Size : 640×480 | File Size: 225MB
Video Description
Kan is a photographer waiting on a slow model, Michelle, to come to the set and when she does, looking beautiful in tight spandex short shorts and slinky top, she's sporting little white socks as well.
Angrily, he tells her to lose the socks or lose the shoot and the money, so she says fine, he'll lose his head – to her crushing LEGS!
She gets pissed and tears into him, her little but powerful body overwhelming the big man and destroying him in a mind-boggling display of all-out scissor domination!
Michelle has short but extraordinarily powerful legs and one of the deepest, most punishing reverse facescissors ever.
She is also as flexible as they come, at one point twisting back to reverse figure four him – with BOTH HANDS!
And she is very fond of using a neck-wrenching, windpipe jolting throat-scissors that very nearly decapitates him!
At the end, she gets her money and her revenge, leaving with her cute socks and ALL her cash!
More Videos You Might Like!
SVDL-0940 'Butterflies and SCISSORS!' featuring Brianna Cole

$

14.99

SVDL-1073 'Physical SCISSOR Education!' featuring Kimber Woods

$

14.99

SVDL-1157 'His Final Tribute!' featuring Princess Carmela

$

14.99

SVDL-1318 'I'll Give You A Valentine's Day SQUEEZE!' featuring Jennifer Scarpetta

$

14.99

SVRC-0070 'The SCISSOR Mistress!' featuring Jen

$

9.99

SVDL-0746 'Skylar's Scissor Hit!' featuring Skylar Rene

$

14.99

SVDL-1026 'Suspended In Her THIGHS!' featuring Jordana

$

14.99

SVDL-0881 'Double-Teaming the Two-Timer!' featuring Cerina and Jackie

$

14.99

SVRC-0072 'CRUNCH Class!' featuring Ivy and Veronica

$

9.99

SVDL-1100 'Kendra's SCISSOR Vacuum!' featuring Kendra Lynn

$

14.99

SVDL-0248 'Scissor Drawing!' featuring Ellie

$

9.99

SVRC-0130 'Mistress Kayla's KRUSHERS!' featuring Mistress Kayla

$

9.99

SVDL-0115 'The Gentle Assassin!' featuring Gia

$

9.99

SVDL-0317 'Breaking Up Is Painful To Do!' featuring Alexes Jordan

$

9.99

SVDL-0716 'Candy 'The Constrictor'!' featuring Psycho Doll

$

14.99