SVDL-0103 'Popped Like A Balloon!' featuring Choco Ice
Hover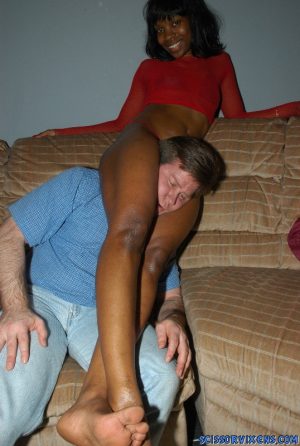 Video Preview
He wanted me to blow up and then pop balloons.  Time for me to POP his head between my THIGHS!
Video Length : 29 mins. | Video Size : 640×480 | File Size: 215MB
Video Description
Al runs popmyballoon.com, a balloon-popping fetish site, and as gorgeous black model Ice walks in looking for Drew to work on a scissor video, Al hits her up instead to work for him blowing up balloons on camera.
She is incensed, immediately accusing him of "trying to make me look like some fucking clown!" by blowing up balloons and just destroys him with a barrage of scissors the likes of which we have seldom seen!
She goes insane, first taking him in crushing leglocks while wearing skin-tight jeans and then stripping down to a skimpy thong, revealing her massive, powerful mahogany thighs that devour him in a series of frightening scissors!
Her thighs are immense, meaty and muscular, sucking him deep into their crushing embrace for a mind-blowing display of headscissors and facescissors!
At five-foot-eight, she has legs long enough to inflict serious pain in a bodyscissors and she does so, over and over again.
Her figure fours are lethal as well, her chiseled 14-inch calf tearing into his windpipe and threatening to tear his head off.
Her verbal domination is superb, laying down a blistering tirade of ghetto-talk that sears his ears nearly as painfully as her bombarding thighs!
She even tries making him blow up his own damn balloon while absolutely crushing him in her legs!
Don't piss off this girl, or she'll turn whatever fetish you have into hers – popping men's heads in her scissors!
More Videos You Might Like!
SVRC-0033 'Look At Me When I SCISSOR You!' featuring Tara 'The Hardcore Schoolgirl'

$

9.99

SVDL-1092 'I'm Going To CHOKE YOU OUT!' featuring Goddess Erica

$

14.99

SVDL-1169 'Leila – Queen Of The SCISSOR Pit!' featuring Leila Hazlett

$

14.99

SVDL-1212 'Naomi Swann 'The Teenage Assassin' Strikes Again!' featuring Naomi Swann

$

14.99

SVDL-0273 'Who's The Bitch Now!?' featuring Jen

$

9.99

SVDL-0368 'iScissors!' featuring Sarah Gregory

$

9.99

SVDL-1323 'Till Scissors Do Us Part!' featuring Cake

$

14.99

SVRC-0073 'Ms. Savannah Sly's SAVAGE SCISSORS!' featuring Ms. Savannah Sly

$

9.99

SVRC-0058 'Let Me SQUEEZE Your Head Instead!' featuring Taylor

$

9.99

SVDL-1058 'Captain Wildcat!' featuring Ashley Wildcat

$

14.99

SVDL-0097 'The Scissoring Insomniac!' featuring Sybil Starr

$

9.99

SVDL-0364 'The Scissor Look' featuring Kira

$

9.99

SVDL-0546 'Scissoring Him Topless!' featuring Mandy T

$

14.99

SVRC-0056 'Ironing Out His Neck!' featuring Felix

$

9.99

SVDL-0919 'Picture My Thighs Around Your Neck!' featuring Alexiz Armbar

$

14.99