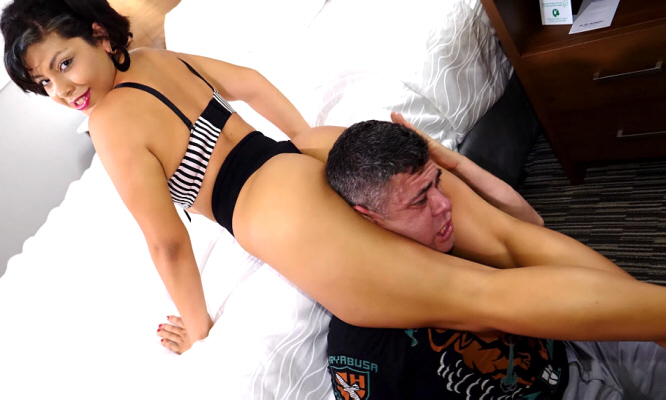 Standing at 5'8″ tall GORGEOUS Kayloni is ALL LEGS and yes…she knows how to use them!
We first saw Kayloni on Eros under the Domination/Dominatrix category and we're immediately drawn to her pics and bio offering wrestling as well as other forms of domination.
It was obvious Kayloni was no stranger to working out and it shows in her long but athletic thighs.
She told us that she has trimmed off 15lbs of fat while gaining 7lbs of solid muscle over the past few months thanks to her personal trainer and it most definitely shows!
Kayloni told us she was a cheerleader in school, trains in various forms of martial arts in addition to pumping iron and is also a burlesque dancer.
But what she loves more than anything…is inflicting pain and humiliation on men which is why she's been a professional dominatrix for the past few years!
And thanks to some of her clients, she was introduced to the art of scissors and immediately fell in love with the leggy form of reducing men into submissive boys between her DEATH GRIP!
Recently, Kayloni also discovered the popular session site, SessionGirls.com where she posted her profile. 
It wasn't long before she was receiving e-mail from her SessionGirls.com profile and soon realized…there seems to be a lot of douchebags out there who have something to prove by trying to intimidate and threaten women with childish lines like…"Hey, so you think you're tough!?  I bet I can kick your ass!".
Well…when you are a straight-up 100% domme who demands obedience from submissive men…this didn't go over too well with Kayloni!
So for you guys who have something to prove to women..well…don't waste Kayloni's time!
But for you guys who truly desire to be dominated, teased and humiliated between a pair of long, fit thighs while looking into the beautiful eyes of a genuinely dominant woman…then Kayloni will gladly accept your challenge!
Session and Contact Information
Click On Pictures To View Full Preview Page or Click On Eye Icon for Quick View.
Click On Heart Icon To Add To Your Wishlist.