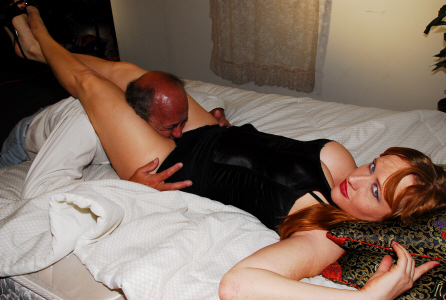 Julie Simone is one of those rare treats, a true scissoring find and we have her at Scissor Vixens! This 5-10 redhead is one of the sexiest vixens we've had the pleasure of working with to date, possessed of insanely long legs and boasting 25-inch thighs and 14.5-inch calves!
She's a bondage girl by trade in LA and was recently voted as the "best rigger" in the business, meaning she's a total pro at tying people up. Well, she tied us up plenty in her legs! Meaty and powerful thighs that squeeze soooo tightly combined with a sexy dominant attitude and propensity for blasting her scissors on you with snaps, thrusts, grinds, pulsations, quivering, you name it – this girl has a killer pair of legs!
She'll lay down a steady squeeze for awhile and just when you think it can't get worse it does as she punctuates the straight scissors with brutal twists and hip-snaps that really make you feel like you're head is getting ripped off your shoulders. Julie has a true pair of man-eating thighs that we know you're just gonna' love and want to see again and again and again..
Click On Pictures To View Full Preview Page or Click On Eye Icon for Quick View.
Click On Heart Icon To Add To Your Wishlist.