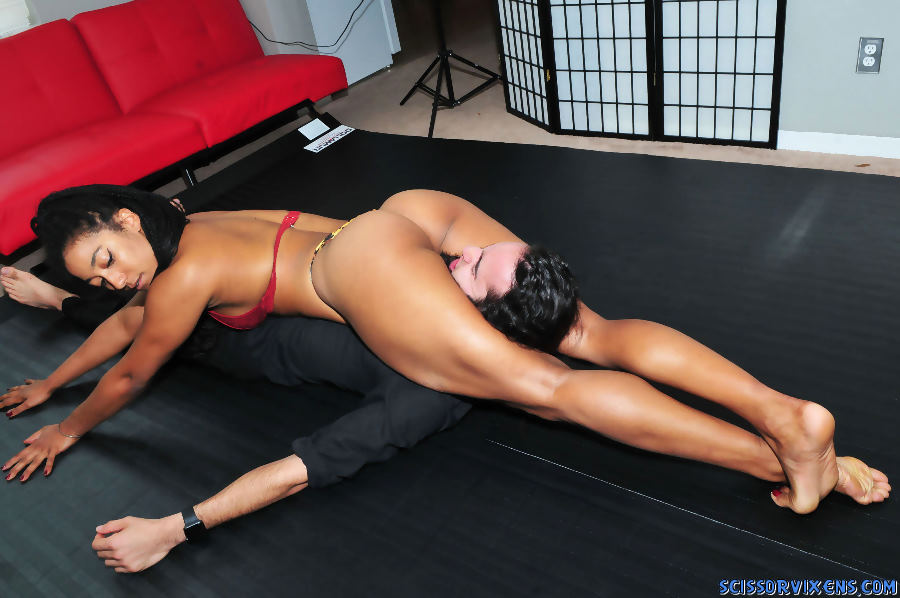 Sativa Says:
My name is Sativa Mist. Ive been in the wrestling game for just over a year now, and Ive taken to it like a fish to water. Its no surprise really- I got my black belt when I was 13, and have been doing Brazilian Jiu-Jitsu for about 7 years. I do all kinds of sessions, from Fantasy to Competitive.

Try and catch me, Sonny Boy 😉

For me, wrestling has become a way of life. I love it, and I love the people I session with. I take care to make sure each session is 100% fun, sensual, sweaty and pleasurable. Im a good listener, meaning I listen with my ears and my body- giving you the session of your dreams. That means I can rough you
the f*ck up, or treat you to something sweet, soft, and sexy.

I travel a lot, so keep your eyes open for updates. Looking forward to seeing you on the mats, in my chokehold, between my thighs, etc..

Sativa xx
ScissorVixens Says:
We first saw Sativa Mist on various social networks and a few websites and were immediately impressed by her imposing physique and striking looks.
Watching her in a few video preview clips we knew this girl had serious grappling skills and her overmatched opponents (primarily men) had zero to no chance against her speed and power!
We needed to get her on ScissorVixens but there was only one problem…she was from the UK!  So the best we could hope for is that she would decide to make a trip to the US and fortunate for us…she did!
When we showed up for the shoot and Sativa stood up while wearing revealing attire…we were really impressed by the size of her thighs which looked much bigger in person!  We knew it was going to be a very PAINFUL day for anyone clamped between her CRUSHERS!
During a short interview with Sativa…she told us that her athletic background includes ballet dancing, karate (black belt), Brazilian Jiu-Jitsu and of course…dominating helpless men in competitive wrestling matches.
She even told us in a very confident manner…"I love scissors…I've got a very good scissors!".
And that she does!
Session and Contact Information
Click On Pictures To View Full Preview Page or Click On Eye Icon for Quick View.
Click On Heart Icon To Add To Your Wishlist.