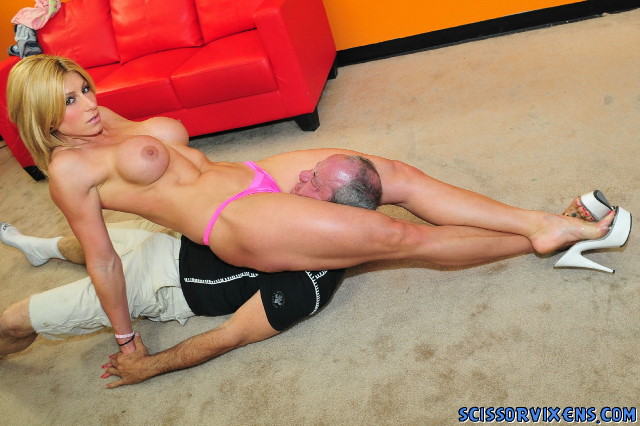 Rapture Says: "I've been lifting weights all my life and love showing my muscles off and using them to my advantage.  I've been a dancer here in Las Vegas (currently at Spearmint Rhino) off and on for many years and though I've never competed, I train hard and heavy, especially on legs and biceps.  From many years of outmuscling my brothers and boyfriends in wrestling matches, I learned to love being physical and sometimes dominant.  I love 'lift & carry' also.  I'm here to make your fantasies come true :)"
ScissorVixens Says: Standing at 5'10" tall Rapture is one of the sexiest women you will ever meet on the session scene today!  Her legs are LONG and LEAN as is the rest of her spectacular physique (just look at her flat, chiseled stomach) developed from years in the gym and as an exotic dancer.  One of the things you will no doubt remember when experiencing a session with this beauty is her very cute girlish giggle but don't let that fool you or give you a false sense of comfort….she likes to giggle all the while watching you struggle to escape her lethal legs! 
Session and Contact Information
Click On Pictures To View Full Preview Page or Click On Eye Icon for Quick View.
Click On Heart Icon To Add To Your Wishlist.