SVDL-0054 'I Wanna Join The Wrestling Team!' featuring Bethany Joy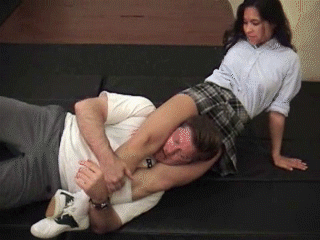 Hover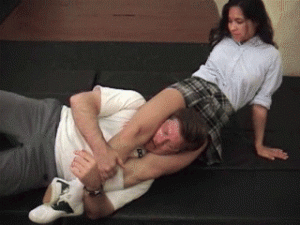 I wanted to join he boys wrestling team but the coach told me no.  I think it's time to show him that girls can wrestle too!
Video Length : 31 mins. | Video Size : 480×360 | File Size: 174MB
Video Preview
Video Description
Who says girls can't wrestle on the boys team?
You better not tell Bethany Joy that or she'll show you a thing or two why girls can be every bit as good as the boys and then some!
Watch Bethany demonstrate for the school wrestling coach why she is more than worthy to compete with the boys by working the arrogant male chauvinist over in her muscular, powerful thighs.
After he tells her "no girls will be allowed on my wrestling team", Bethany drags his sorry ass out to the mats and shows him that her legs are not only nice to look at but make for very effective instruments of wrestling destruction.
The coach is put through every conceivable leg scissor hold there is and is taught a few more that he's never seen.
One reverse figure-4 head scissors nearly strangles the poor coach to death as he frantically attempts to escape only to find himself caught further in a crushing reverse head scissors!
After nearly squeezing the life outta the poor wrestling coach, Bethany finally convinces him to put her name on the wrestling team roster.
Needless to say…the coach obeys her command after such a brutal scissor beating!
Next time you tell a girl she can't do something, you better make sure it's not Bethany Joy!
More Videos You Might Like!