SVDL-0004 'Legs Benedict!' featuring Gabrielle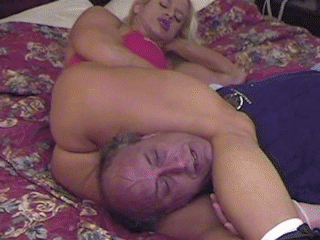 Hover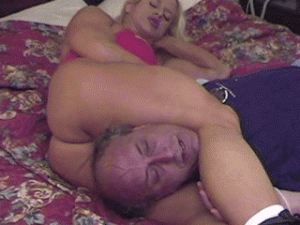 These two clowns refuse to talk.  Well, after my 25 inch QUADS of DEATH are done them…they'll never be able to talk again!
Video Length : 52 mins. | Video Size : 480×360 | File Size: 291 MB
Video Preview
Video Description
Gabrielle Nicander, a big, bruising blonde bodybuilder who stands nearly five-foot-ten and weighs a rock-solid 200 pounds, plays a trained assassin in "Legs Benedict," sent to scissor two informants to the great beyond!
Using her massive, 25-inch thighs and chiseled 16.5-inch calves, and looking deliciously dominant in bikini bottom, tank top and kick-ass mid-calf military boots, she works her victims over one by one with their hands tied behind their backs, engulfing their screaming skulls in her huge thighs and nearly cracking ribs in her bone-crushing bodyscissors!
At the end, she executes the rarely seen double headscissors, using every inch of her long, powerful legs to squeeze her victims into oblivion!
This is one huge, fiercely muscled lady with legs that can literally kill!
More Videos You Might Like!