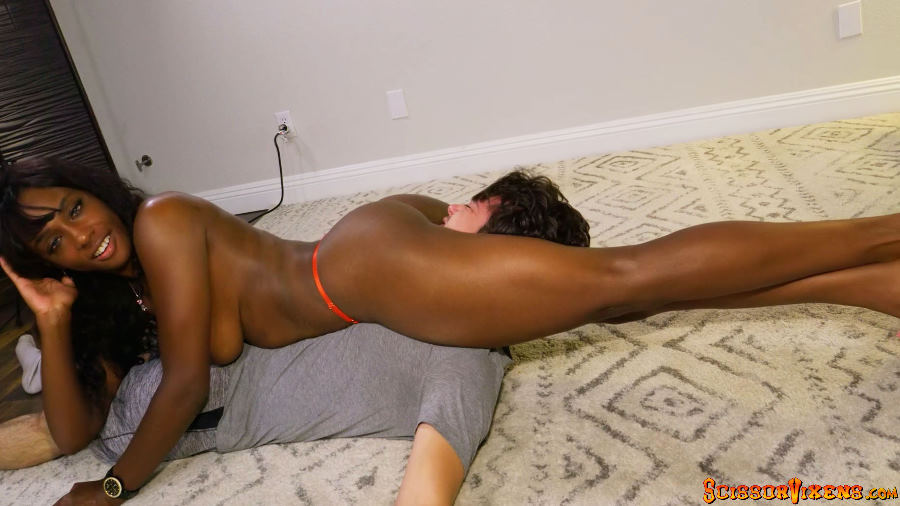 We first heard about GORGEOUS 5'10" tall fashion model turned fetish model, Goddess Paris Love, a few years ago when she first arrived on the scene.
One of our victims, who also shot for another producer, told us how BRUTAL her scissors are!
He said he was SHOCKED when she first put him in a bodyscissors that felt like she was literally breaking him in half like a toothpick! Then it only got worse once she wrapped her pythons around his neck!
Well…fast forward a few years and lucky for us…Goddess Paris Love decided to visit Scissor City (aka Las Vegas) to show ScissorVixens fans that her LETHAL LEGZZZ are indeed MURDEROUS!
Watching her walk around in her SEXY black leotard thong and wearing high heels…I couldn't take it anymore and before we started rolling with the first video I told her…"Ok, let me see what we are getting ourselves into!".
I asked her to give me a taste of her thighs and with that she just smirked and pulled me into a headscissors from behind (just like the first sample photo above).
She started out slowly but kept increasing the PRESSURE until eventually…I had no choice but to tap out! And I knew better to try and quickly stand up because I most likely would have face-planted myself into the carpet since my head was still spinning!
Yep…Goddess Paris Love is the REAL DEAL folks!
Session and Contact Information
 Location: Orlando, Florida
Click On Pictures To View Full Preview Page or Click On Eye Icon for Quick View.
Click On Heart Icon To Add To Your Wishlist.