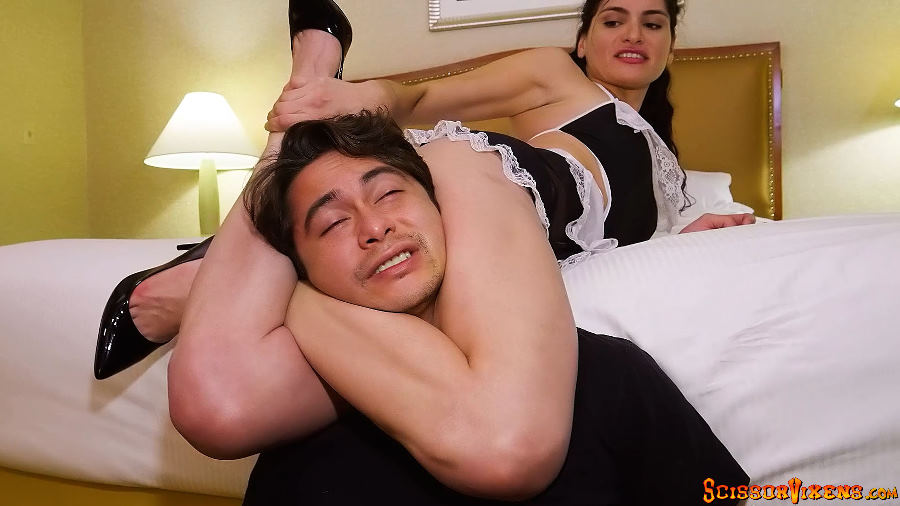 For those who visit SessionGirls on a regular basis, you might have come across a 5'7″ tall hottie from Dallas, Texas named Bellaluxx!
We noticed her several months ago and besides her striking looks…we LOVED the way describes herself and also describes how her session victims have no chance of escaping once she wraps her sinewy steel cable thighs around them!
Here is one excerpt from her SessionGirls profile page:
Here is what I love Best. I love seeing your faces and your reactions when I wrap my long legs and arms around you and you realize you cannot move and there is no place to go. First, in disbelief, you struggle and squirm, then frustration sets in, then the panic comes and soon you begin to beg, plea and squeal and finally, the tap.
Then because you are in disbelief and denial, we do it again, with the same result. And then we do it again and again, with the same results, again and again!!!
Now if that doesn't get your attention…maybe watching what she does to me and the other guy with her SAVAGE SCISSORS will!
I figured she may have been exaggerating a bit in her description and had some doubts until I asked her to give me her BEST SQUEEZE off-camera.
BIG MISTAKE!
Think you got what it takes to take Bellaluxx's SQUEEEEZE!?
Good luck with that if you do!
Session and Contact Information
Click On Pictures To View Full Preview Page or Click On Eye Icon for Quick View.
Click On Heart Icon To Add To Your Wishlist.
$

13.99 –

$

18.99