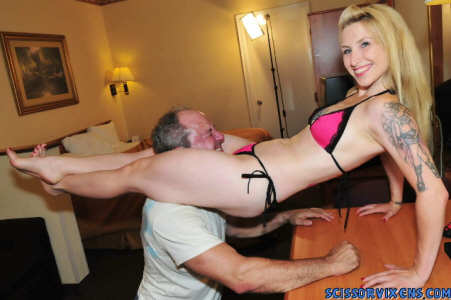 When one of the first things a ScissorVixen asks you is…"Ok…before we get started…how do you feel about knockouts!?" you know it's going to be BRUTAL!
It has been quite a few years since we first shot with Nikki Fierce so when I came across her Facebook profile a few months ago…I couldn't believe my eyes!  She looked totally different in almost every way from when we first introduced her on ScissorVixens.com!  Gone is her 'punky' hairstyle in favor of a more conventional straight down look.  But what really blew us away was how fit and toned Nikki has become over the years and when asked how she's gotten in such terrific shape she says it's from plenty of pilates and yoga in which she's now an instructor!
And when I asked her whether or not she's still in the session scene she said yes and confidently proclaimed her scissors are stronger than ever…something we were about to soon discover for ourselves!
Although Nikki Fierce may have changed her physical appearance (in a most positive way!) one thing that has not changed is her playfully SADISTIC approach to torturing helpless men between her thighs! 
**Folks…trust me when I tell you…Nikki Fierce's scissors are FREAKISHLY STRONG and will have you in SHEER PANIC MODE once she clamps her CRUSHERS around your neck!**
Nikki's murderous scissor technique is quite an experience.  First she pulls you in as deep as possible, then she locks up her ankles and finally instead of going full blast right away…she likes to slowly torture you with eye-popping pulses of her inner thigh muscles (adductors) that LITERALLY feel like steel rods!.  She really enjoys watching the mounting fear in your eyes as panic starts to set in knowing it's only a matter of seconds before you begin to frantically scream and beg for her to stop! 
So for those who want to experience what it's like to get pulverized by Nikki's FIERCE thighs contact her below and tell her Drew from ScissorVixens.com sent you!
Session and Contact Information
Location: Los Angeles, Ca.
Click On Pictures To View Full Preview Page or Click On Eye Icon for Quick View.
Click On Heart Icon To Add To Your Wishlist.