Introducing Kendall Knight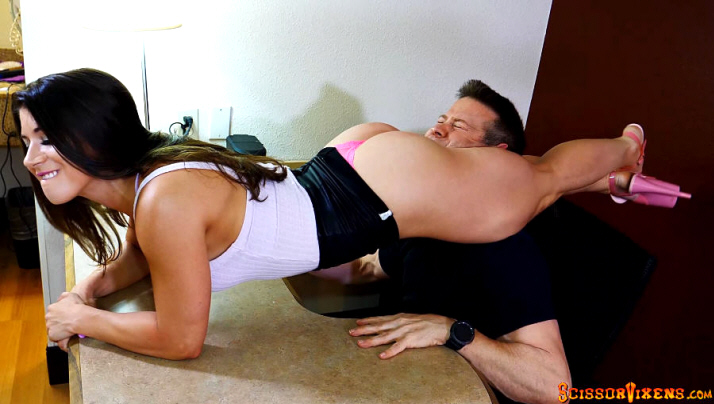 Wow…not sure where to start with this one since there are so many side-stories that led up to finally shooting with Kendall Knight and getting my ass knocked out for the very first time after over 15 years and now 571 different ScissorVixens!?
I've always managed to tap before taking a nap but when you have a world-class ass like Kendall 'The Krusher' Knight's in your face in a CRUSHING standing reverse head scissors…sometimes you just can't bring yourself to tap…so…you nap!
Kendall told me she's actually a pro-domme in the New England area and is no stranger to dishing out punishment to men and loving it!
So for the next several months Kendall had a lot of fun occasionally sending me taunting text messages of how she's working her CRUSHERS (as she calls them) harder than ever in anticipation of our shoot even though we didn't have a date set yet.
Then once we had a shoot date set…her sexy scissoring taunts continued almost daily for 2 weeks texting me photos of her crushing stuffed animals, pillows and flexing her thighs always followed up with verbal taunts!
NEVER in my 15 years of doing this work have I had a soon-to-be ScissorVixen show as much anticipation and excitement over the thought of CRUSHING the daylights out of me like Kendall 'The Krusher' Knight did leading up to the shoot!
The day of the shoot I woke up to…"Today is the day….are you ready for this!?"
Then I sarcastically asked…"What's going on today…?".
Then as if she had a crystal ball to see into the future Kendall replied…"Oh nothing much other than my CRUSHERS are going to give you a big SQUEEEEZE then you're going to take a little nap for me…that's all!".
Think you can take on Kendall's KRUSHERS!?
Contact her today if you dare!
Session and Contact Information
Click On Pictures To View Full Preview Page or Click On Eye Icon for Quick View.
Click On Heart Icon To Add To Your Wishlist.
$

12.99 –

$

17.99