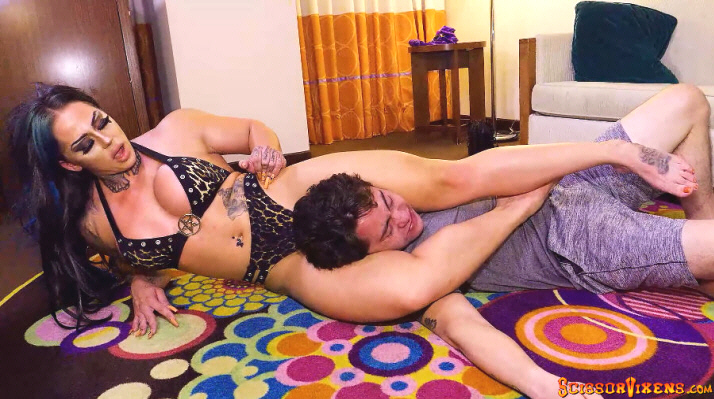 Here in Vegas we are blessed with gyms everywhere and of course where there are gyms, there are countless female muscle babes!
So when we saw Dagon Sage, with her attention-grabbing gothic looks and impressive physique walk by us while working out…we had a feeling someday she'd find her way onto our huge list of ever-growing ScissorVixens! 
Belonging to the same gym, we also follow our gym's social media page where Dagon posted a few of her workout pics. So, we didn't hesitate to send her a message to check out our site in which she eventually replied and so here we are!
Dagon told us that she started out years ago contemplating becoming a bikini model but for her…she wanted much more from her thin physique and turned to a male bodybuilder for inspiration. 
She told us…"That's when I knew being skinny wasn't for me and I wanted to be jacked just like him!".
Well…JACKED she is and now she's jacking us up between her POWERFUL THIGHS here on ScissorVixens.com!
Think you have what it takes to handle Dagon Sage's SQUEEEEEZE?
If the answer is yes, then contact her today and tell her ScissorVixens sent you!
Session and Contact Information
Click On Pictures To View Full Preview Page or Click On Eye Icon for Quick View.
Click On Heart Icon To Add To Your Wishlist.