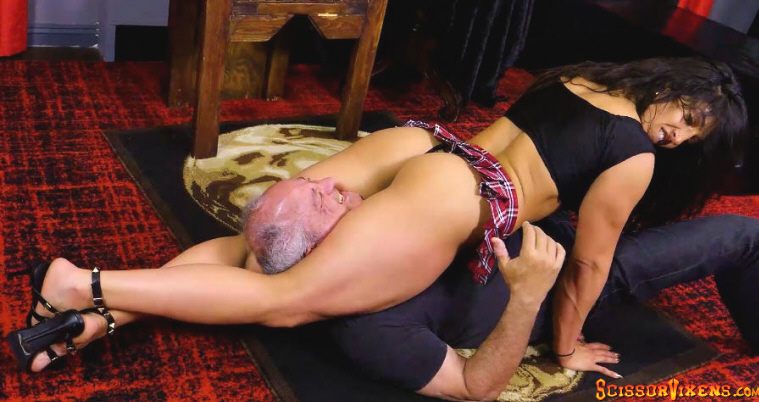 Every once in a while we receive e-mails from models wanting to be featured on our site but in the recent months, we seem to be getting more and more models contacting us wanting to become the next ScissorVixen.
So when we received an e-mail from Brutal Bri asking us how she and her girlfriend can be featured on our site…she also attached a few photos which included Brutal Bri scissoring her girlfriend!
One look at Brutal Bri's MASSIVE QUADS CRUSHING her girlfriend told us she has more than what it takes to join our ever expanding list of ScissorVixens!
Needless to say…we couldn't wait for her to show us what she's got and good lord…that she did and more!
She told us about some of her impressive lifts in the gym and one look at her thighs…we did not doubt it one bit!
And it's not just her powerful thighs that impress…she told us she can do incline dumbbell chest press with 85lbs. in each hand and the entire stack with standing tricep push-downs!
Brutal Bri is one POWERFUL ScissorVixen from head to toe!
One other thing Brutal Bri loves to do, even in the gym in front of a crowd, is grab someone and mount him/her on her shoulders and do full squats!
In fact…she sent us a short video of her doing just that with her 180 lb. girlfriend in the gym as if she was a warm-up smiling the entire time!
No doubt…Brutal Bri has the THIGHS that can make any man beg for mercy!
Session and Contact Information
Click On Pictures To View Full Preview Page or Click On Eye Icon for Quick View.
Click On Heart Icon To Add To Your Wishlist.