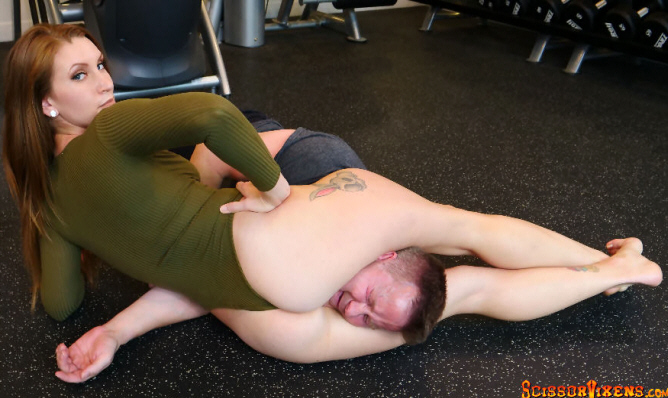 We've known about Riot for a few years now and have finally been given the opportunity to work with her during our latest visit to Florida.

But what we didn't realize is just how tall and incredibly leggy this red-headed beauty is!

Standing at 5'8″ tall (and easily over 6′ in heels)…one look at her 'legs for days' meant we were in for a world of hurt and a world of vicious scissors!

Her first question to us before the video even started was…"So, are you ready for me to squeeze your brains out!?".

As if we weren't already a little concerned for our physical well-being…that cocky and confident question had me fearing the painful moments to come even more!

It's hard to believe that such a pretty woman can be so powerful but trust us…Riot can fuck you up with her thighs and that she does to us over and over again!

And one thing becomes very clear from the start…she absolutely gets off on it smiling, taunting and flicking her hair around while watching you struggle to survive.
Riot Starter can CRUSH you into powder!
Session and Contact Information
 Location: New Port Richey, Fl.
Click On Pictures To View Full Preview Page or Click On Eye Icon for Quick View.
Click On Heart Icon To Add To Your Wishlist.