SVDL-0120 'Locker Room Lesson!' featuring Courtney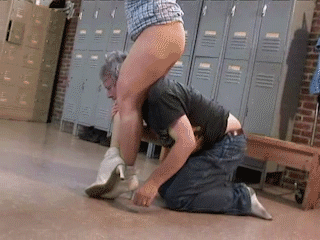 Hover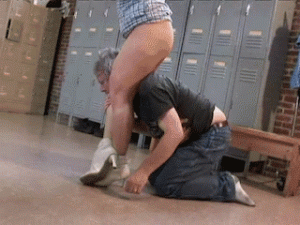 He tried to hide in the corner as I was getting ready to change into a new outfit for my photo-shoot. Time for a locker room lesson!
Video Length : 30 mins. | Video Size : 640×480 | File Size: 224MB
Video Preview
Video Description
When Courtney walks into the girls locker room, at her favorite photography studio, carrying her makeup kit, she notices through the reflection of the mirror an older, gray haired man attempting to hide himself in the corner behind a row of lockers.
Instead of doing what most young women in this situation might do; call the studio manager; Courtney decides that this is an excellent opportunity to have a little fun!
She approaches the man and pins him in the corner, verbally taunting him while physically showing him who's boss.
Courtney has a gorgeous pair of big, muscular and powerful thighs and she decides to show the old man what her thighs can really do.
After kneeing him in the stomach and forcing him to the floor, she goes to work by applying one brutal head cracking scissors after the other.
Front, reverse, side, body scissors…every kind of scissor hold is unleashed on the old pervert as he pleads for the young woman to stop and let him go.
But Courtney is having way too much fun and the leggy torture continues until the very end when Courtney straps a leather dog collar and leash around the man's neck, sits down on a wooden chair and pulls him into a final, crushing front head scissors that finally knocks the man out cold!
More Videos You Might Like!