Introducing Mistress Ayano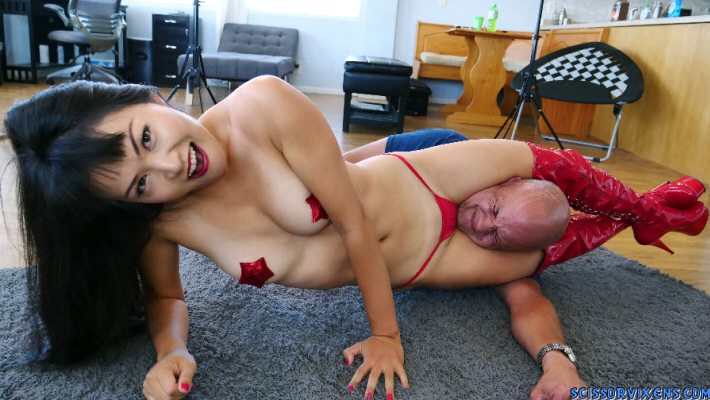 When we viewed Mistress Ayano's Eros profile and she had 'Wrestling' listed as one of her session offerings…we knew she'd be a PERFECT fit for ScissorVixens!

And we also knew she had the right DOMINANT attitude as her Eros profile page says it all…"Your dream mistress, experience true nightmare!".

We're not sure what it is about gorgeous Asian women but no matter their size, (slender, muscular or somewhere in between) their scissors are BRUTAL and Mistress Ayano is no exception!

When interviewing her during the first part of this video, Mistress Ayano's LOVE for wrestling, and in particular, scissors is quite obvious as she tells us with a grin on her face…"I love choking and squeezing necks with my thighs and arms!".

And when we asked her if she ever knocked anyone out during a session…her smile turned into laughter saying… "Yes…they pass out!".

After our brief 'Meet Mistress Ayano' interview, Mistress Ayano then proceeds to demonstrate just how much she genuinely LOVES torturing her slaves between her powerful thighs!
So check out GORGEOUS Japanese dominatrix, Mistress Ayano, here on ScissorVixens.com!
Session and Contact Information
Click On Pictures To View Full Preview Page or Click On Eye Icon for Quick View.
Click On Heart Icon To Add To Your Wishlist.