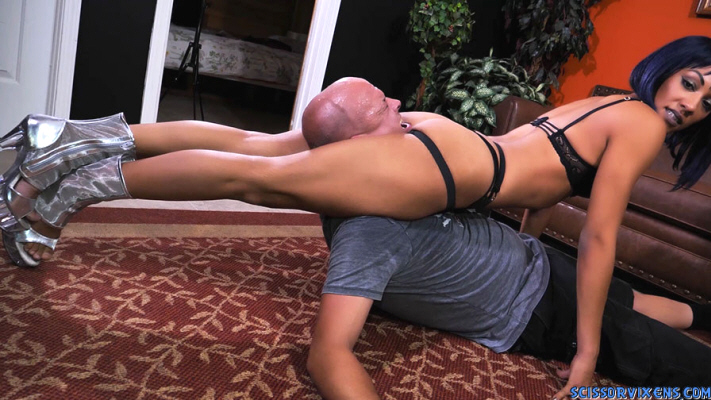 When GORGEOUS, and infinitely LEGGY, Aqua X, contacted us to shoot and sent us a few of her recent pictures…it didn't take us long to reply…"Hell yeah!".
 
 As one session reviewer accurately observed…"She's stunningly beautiful!" but don't let her looks, or her slender but athletic physique, fool you!
 
 She has a dancing background and dancing legs are always made for SCISSORING!
 
 We were also surprised to learn Aqua X is from Portland, Maine, an area we at ScissorVixens are very familiar with since we spent so much time up there in our early years finding 'never before seen' girls, a few of which went on to become very popular like Nessie Squeeze (aka Ludella Hahn).
 
 Aside from Aqua X's beautiful face and legs-4-ever body, you'll love her insanely SEXY and dominant attitude!
 
 When we asked her what are some of the reasons for kicking a guy's ass she immediately replied…"I don't need a reason…I do it for fun!".
 
 And you'll be drawn in by her captivating eyes as she glares at the camera, often with a smirk, knowing the damage and pain her equally captive thighs are inflicting on her trapped victims right here on ScissorVixens.com!
Session and Contact Information
Click On Pictures To View Full Preview Page or Click On Eye Icon for Quick View.
Click On Heart Icon To Add To Your Wishlist.