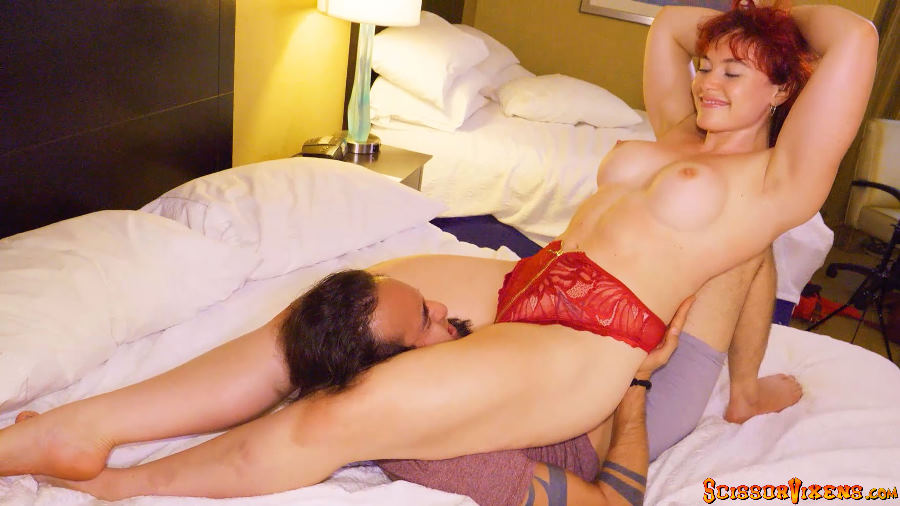 Like most of you, we first saw GORGEOUS UK powerlifting POWERHOUSE, Alexis Luna, first appear on SessionGirls and it didn't take long before she exploded on the session and video scene as well!
We had the opportunity to work with her earlier this year here in Vegas but unfortunately…it didn't work out.
So, when we were at FetishCon 2023, not knowing she was going to be there, we noticed a muscular woman with HUGE, POWERFUL thighs standing next to one of the pool-side bars with her back towards us.
And once she finally turned around and began to walk towards us…we immediately knew who she was…Alexis Luna!
We did not hesitate to immediately approach her and after she finished her conversation with another gentleman…we were eager to finally introduce ourselves in person!
When I sarcastically asked her if she was familiar with all of the various scissor holds…she just smiled, pointed down to her SKULLCRUSHER thighs while flexing them and asked…"What do you think!?".
Confidence is something Alexis Luna does NOT lack and with good reason!
Now with over 630 ScissorVixens models on our site (of which no other all-scissor site comes close to)…we can confidently say…Alexis Luna is definitely in our TOP 10 (perhaps even TOP 5) of all ScissorVixens for EXTREME POWER!
Once she decides to put you away…put you away she can!
And if you're wise, you'll tap out IMMEDIATELY when she pours it on…you simply have no other choice unless you are ready to count a few sheep while taking a nap!
Session and Contact Information
Click On Pictures To View Full Preview Page or Click On Eye Icon for Quick View.
Click On Heart Icon To Add To Your Wishlist.