Introducing Hungarian Hammer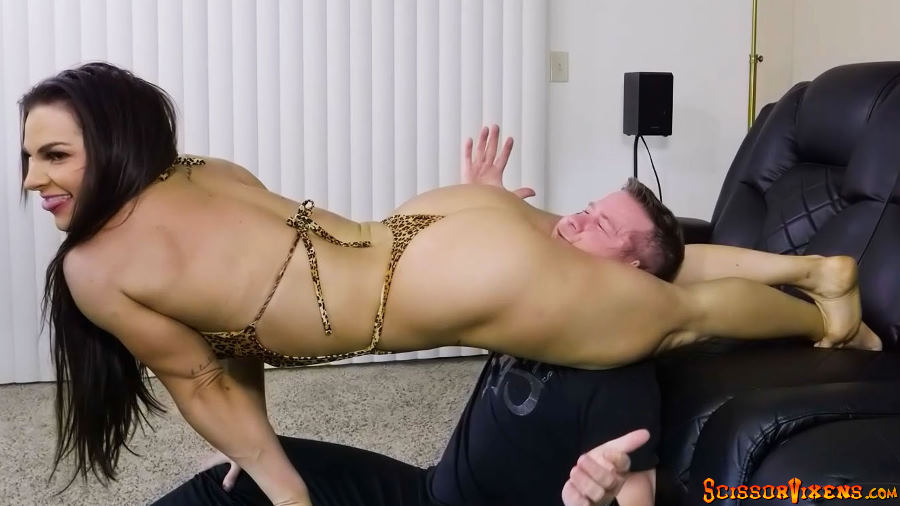 In her own words, the Hungarian Hammer is not shy about her abilities stating "I am a bodybuilder / fitness model also a kick boxer." and "If you want to feel the Hungarian power and want to get crushed between my legs don't hesitate and book a session with me.".
Well…we sure didn't hesitate to get her on ScissorVixens so that she can show us what those CRUSHERS could do and sure enough…it turned into a TAP-FEST all the while Sheena was cheering her on from the 'sidelines'!
She has an extensive background in competitive ballroom dancing in Germany and no doubt that helped her build a strong foundation for the LETHAL LEGZZZ she has today.
Of course thighs like hers are built by some POWERFUL lifts in the gym as well!
She told us the leg press is her favorite leg exercise and when I took a guess at how many 45lb plates she loads on each side…I underestimated her thinking perhaps eight 45lb plates but she quickly corrected me and said…"No, more…10 plates on each side!".
I'm sure the boys in her gym run and hide when she starts to load those plates out of fear of being humiliated on leg day!
Wanna be humiliated by the Hungarian Huntress in the gym or better yet…between her POWERFUL THIGHS?
Then contact her today and let her know ScissorVixens sent you!
Session and Contact Information
Hungarian Hammer's Videos
Click On Pictures To View Full Preview Page or Click On Eye Icon for Quick View.
Click On Heart Icon To Add To Your Wishlist.