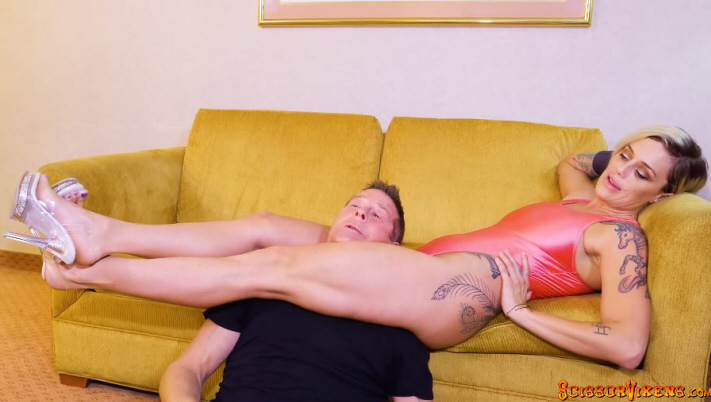 Andi Vicious stands at 5'9″ tall and has LEGZZZ for miles and of course for making men submit whenever she wraps them around your neck like a python!
We first saw Andi at a SessionGirls live event here in Vegas and I was able to get a close-up view of her gorgeous thighs in action since I was playing cameraman for the 'after party' matches in which Andi participated.
So, it was only a matter of time before we got her on ScissorVixens to show off what she's capable of.
For you guys who like a highly skilled fighter and grappler…her list is very impressive which includes BJJ, Krav Maga, San Shou/Sanda and Kick Boxing!
And she was also a horse trainer and coming from Oklahoma…a bull rider!
This all adds up to BRUTALLY POWERFUL scissors that will have you tapping in seconds whenever she turns it up using her well developed and trained inner thighs and glutes which makes her reverse headscissors especially BRUTAL!
And if you like girls who are genuinely SADISTIC…Andi has you covered as well!
She told us one of her favorite scissor holds is the front headscissors so, in her words, "I can see the struggle and FEAR in your eyes!".
Yep…it's TAP or NAP time!
And she also LOVES pulsating her squeeze calling it her 'booty massage' but it's anything but a massage as that's what you'll need after she's done GRINDING you up between her CRUSHERS!
We are proud to add Andi Vicious to our ever growing ScissorVixens lineup!
Session and Contact Information
Click On Pictures To View Full Preview Page or Click On Eye Icon for Quick View.
Click On Heart Icon To Add To Your Wishlist.