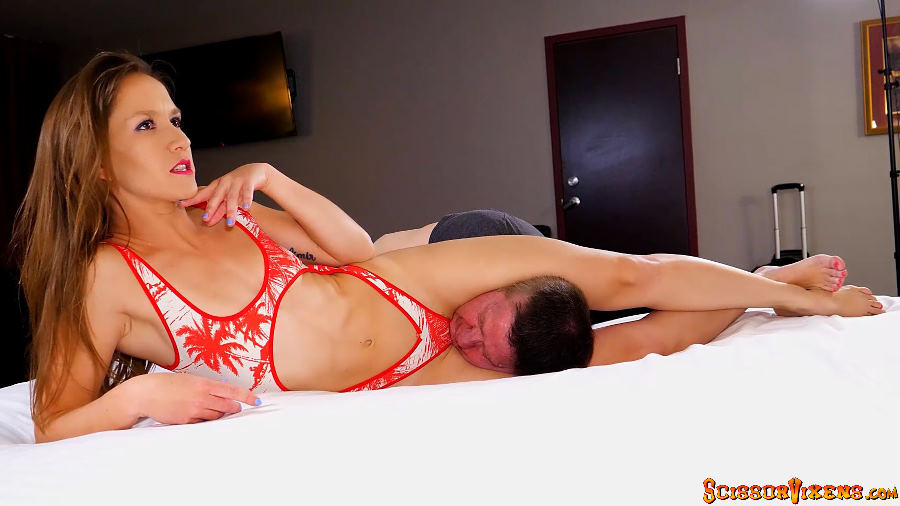 We've had some big, muscular women at ScissorVixens, but NO ONE quite like Dominique Danger!
This Lebanese powerpack stands five-foot-five and head to toe is nothing but pure, head-cracking muscle!
Her thighs are ginormous at 28 inches and her calves are off the chart big at 17 inches!
Her thighs WILL swallow your entire head and make it feel like you're caught between two gigantic slabs of flesh-covered steel when she grinds and pulsates her ridiculously powerful adductors! Dominique puts the Danger in scissors, that's for damn sure!
FINALLY…we were able to get the very fit and athletic Madison Swan in front of our ScissorVixens cameras which was something we've be trying to do for the past few years!
But like most obstacles…they are meant to be overcome and so we did when Madison decided to leave Phoenix for a quick west-coast tour which included Vegas along the way.
When we asked Madison how she was able to maintain her lean, muscular shape, which includes some of the SEXIEST washboard-abs you'll find anywhere, she told us she is an avid rock climber!
Now…I have to admit, I consider rock-climbers a little "crazy" which Madison freely confesses she is!
But that is also what makes her fearless and of course makes her arms and legs so damn STRONG!
Trust us folks…she may be considered 'petite' at 5'5″ tall and 120 ATHLETIC pounds but those deadly adductor muscles feel like a vise-grip when locked around your neck!
And when they are wrapped around your waist…now they feel like a PYTHON slowly constricting the air out of you until you have nothing left to be give but tap out!
Something Madison has perfected, which is insanely SEXY and somewhat EROTIC, is pulsating her inner thigh (adductors) muscles as she has your neck helplessly trapped deep between her thighs.
At first it may feel like a gentle neck massage but with each pulse…it gets TIGHTER and TIGHTER until it's tap or nap!
Session and Contact Information
Click On Pictures To View Full Preview Page or Click On Eye Icon for Quick View.
Click On Heart Icon To Add To Your Wishlist.