Introducing Leah 'The Desert Muscle Girl'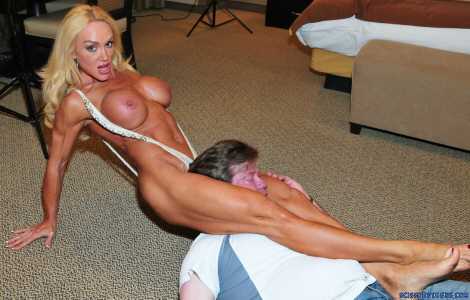 About Leah 'The Desert Muscle Girl'
Leah the 'Desert Muscle Girl' says: "I have been a competitive athlete since the age of 8, being on swim teams every year until I found weight training in high school. while developing my muscle, I competed in power lifting and went into competitive bodybuilding where I won numerous events. My fitness modeling career really took off after wining the California state championships. I have been featured in most fitness magazines and their special lingerie issues. I modeled for Muscle Elegance magazine and was featured in their Desert Foxes Video. I am a fitness instructor working in a mixed martial arts gym and a fitness model when I'm not conquering men in a killer scissors hold. I'm a woman on the outside and a tomboy on the inside. Come and find out! I look forward to meeting you!
Leighanna Ross is indeed everything she professes to be and more!
Gorgeous from head to toe with a very lean, powerful body and legs that are truly knife-like that feel like they can sever your head from your body or literally slice you in half with one of her excruciating body scissors! 
Leah 'The Desert Muscle Girl's' Videos
Click On Pictures To View Full Preview Page or Click On Eye Icon for Quick View.
Click On Heart Icon To Add To Your Wishlist.