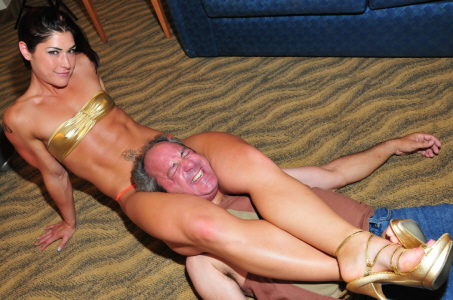 That's right ScissorVixen fans…it's not a typo…you're reading that correctly! 
KO Girl stands at 5'7″ and a very solid 160 pounds featuring washboard abs and Quadzilla size thighs measuring at 28.0 skull-crushing inches and throat busting calves stretching the tape at 18.0 inches! 
Oh…and look at that face!  Muscle galore beneath fashion model quality looks!
Now…what about attitude…?  Hmmm…lets start with her signature tattoo proudly displayed on her right shoulder that reads 'KO'! 
Yes…those are the initials to her real name but they also represent everything this girl is all about from KO looks to KO'ing your ass between those insanely sexy, muscular and powerful 28″ thighs! 
And I loved her response to the on-camera question I asked her right before her first video titled 'KO Girl's Savage Scissors'…?  I asked her "So KO…do you have anything you want to say to our members watching this video…?" 
Her response…"I'm here to fuck shit up!". 
Folks…KO is nothing short of the perfect ScissorVixen in every way imaginable…muscle, beauty, kick-ass attitude and the scissor power to back it all up!
Session and Contact Information
Click On Pictures To View Full Preview Page or Click On Eye Icon for Quick View.
Click On Heart Icon To Add To Your Wishlist.