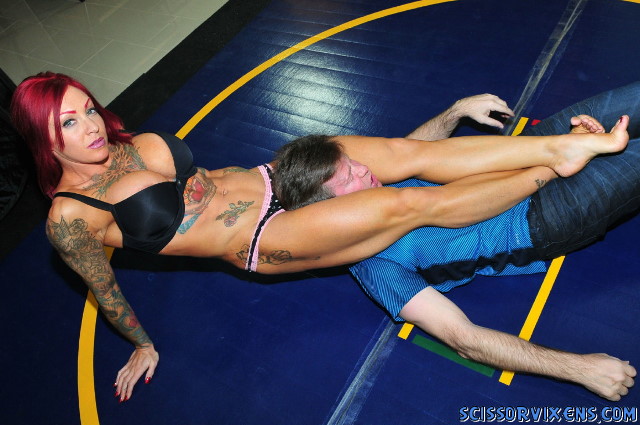 Some of our ScissorVixens.com fans may look at Duchess Dani and say to yourself…"Hmmm…I think I've seen her before on ScissorVixens.com…??". 
Well…you'd be absolutely correct! Duchess Dani was originally introduced to our fans a few years ago under the name of Gina.
But whether or not you remember her as Gina or are meeting her for the first time one thing is for sure…Duchess Dani has come a LONG WAY since our first shoot with her a few years ago! 
Back then she was in good shape but fast forward a few years and now she's in INCREDIBLE SHAPE thanks to her dedication to all-things fitness including competing in CrossFit and fitness competitions!
However…Duchess Dani's amazing transformation wouldn't be complete if it were only physical.  So she's also been busy kicking ass as a pro-domme and session wrestler! 
She's been after us for quite  a while wanting to shoot with us again so that she could show us, and our ScissorVixen fans, what she's now made of! 
Now don't let Duchess Dani's 'girl next door' beauty and comforting smile fool you.  There's NOTHING comforting about being between Duchess Dani's ROCK HARD fitness thighs when she cranks on the pressure and is ready to make you tap-out!
Are you ready to tap-out between Duchess Dani's powerful thighs!? 
Then contact her below and tell her Drew from ScissorVixens.com sent you!
Session and Contact Information
Click On Pictures To View Full Preview Page or Click On Eye Icon for Quick View.
Click On Heart Icon To Add To Your Wishlist.