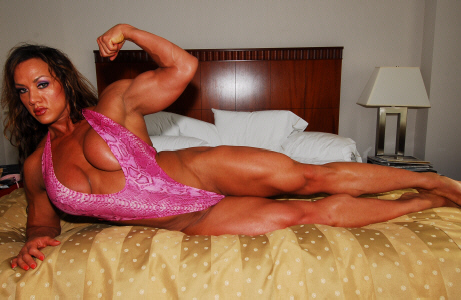 Amber Steel says: "I have competed in figure and bodybuilding shows at the Nationals and the Ms. Universe for NABBA Figure. I have power lifted, arm wrestled, done Muay Thai, wrestled in college, rock climbing, volleyball, and a host of other athletic events.
I am a New Mexico State commissioned judge for the King of the Cage mixed martial arts events, and am an active personality in the NHB world having been the Filipino Female Martial Artist of the year, and been profiled in Grappling Magazine, Black Belt, and Martial Arts Training.
I was an American Gladiator, "Apache", in Orlando, FL, and my roommate was Shannon Hall. I am always in excellent shape and very strong. I am one of Bill Dobbins premier physique models, and I have a current feature story in the March 2004 issue of Ironman Magazine. I attend all of the major expos and bodybuilding shows including the Olympia and the Arnold Classic.
I have been wrestling men for quite a while now. I do primarily semi-competitive, muscle worship and some domination. I have several good references in regard to my sessions and skill."
Session and Contact Information
Click On Pictures To View Full Preview Page or Click On Eye Icon for Quick View.
Click On Heart Icon To Add To Your Wishlist.